Latest News
Lions Take Over Park View HS Gym, Christmas Party Success, Christmas Lights Up Everywhere on Every Street in Sterling
December 17, 2011
In this newsletter:
Update on the Party
Sterling Lions Take Over Park View HS Gym
Working Links to Photos Of Swearing In?
Looking for Burgundy Toyota Sienna With Damage
and more Link SOS from Delegate Tom Rust, Board Gives $500,000 To Homeless, Eugene has 1,000 Facebook friends, Park View HS Band fundraiser, 1,000 houses have Christmas lights, Phil charges the athiests with hate crimes?, Dial the Weather, Delgaudio In Action, Send more money!
Update:
The party was a huge success. Chairman Scott York, Commissioner of Revenue Bob Wertz, Delegates Randy Minchew, Tom Rust, David Ramadan, Treasurer Roger Zurn, an army of conservative bloggers who work day and night, Women Republican leaders, staff, volunteers, donors and other celebrities like Republican Tom Julia all gave greetings money or sang carols like The Chipmunk Song or the first Noel.
With mail we raised 2,000 dollars and now have "only" $8000 more to raise next time.
Sterling Lions Host Wrestling Tournament Today
The Lions Club is hosting a wrestling tournament for area high schools over at Park View HS from this morning until late today according the Patch news outlet. Admission is five dollars to 8 p.m. tonight.
I get a lot of inquiries about the Lion's Club. Here's the latest on the best Lion's club in the region. They meet the 2nd and 4th Thursday of each month at 7 p.m. at Luciano's Italian Restaurant at 1050 Elden Street in Herndon nearby and their email is sterlinglions@verizon.net and their website is.
https://sites.google.com/site/sterlinglions/home
DELGAUDIO'S CHRISTMAS-HOLIDAY VICTORY PARTY
LAST NIGHT
Last night we honored the volunteers and supporters of the 9 supervisors and all Republican candidates for a pre-Christmas/Holiday party at Santini's in Sterling under the Clocktower on Friday December 16.
I took 15 minutes to recognize all who attended. Gave a salute to wife Sheila and family for their support. Thanked volunteers, staff and donors and bloggers. Thanked Chairman Scott York and Tom Julia for his unrecognized role for 25 years of behind the scenes work.
"Your Support Results in 4th Election Victory"-- Eugene Delgaudio
http://joineugene.com/news/article.php?article=7275
Christmas Cards To Our servicemen/women
The Loudoun Women's Republican Club got fifty more cards for servicemen/women at our party Friday night. They have now collected 1,050 cards. They will bring it to hospitalized vets.
football's Tim Tebow: God's Quarterback Loved By Millions
Our card to encourage Tim Tebow is in the mail.
1000 Citizens Attend Swearing In Last Friday Night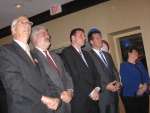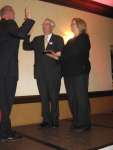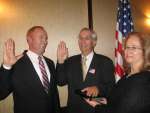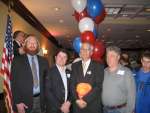 Please tell me if this link actually works!
This is the link to 7 photos of swearing in
http://joineugene.com/photogallery/gallery.php?id=592

LCSO Investigates Felony Hit and Run on S. Cottage Road in Sterling;
Seeks Burgundy Toyota Sienna with Front-End Damage
Loudoun Sheriff's Crash Reconstruction Investigators have released additional information regarding the possible make and model of a suspect vehicle in a hit and run that occurred on December 13, 2011. Evidence collected at the scene determined the vehicle to be a Toyota Sienna van that is burgundy in color.

The hit and run occurred around 5:15 p.m. on Tuesday in the area of S. Cottage Road and S. Fox Road in Sterling, Virginia. The vehicle struck the adult male victim as he was riding a Yamaha Nouvo. The driver of the minivan pulled over before fleeing the scene.

The minivan should have damage to the driver's side front-end, including damage to the headlight area. The motorcyclist was taken to Reston Hospital Center with non-life-threatening injuries.

If you have any information regarding this incident or the suspect vehicle, you are asked to contact DFC J.M. McClintic of the Loudoun County Sheriff's Office Crash Reconstruction Unit at 703-771-5798. If the caller wishes to remain anonymous they are asked to call Loudoun Crime Solvers at 703-777-1919. If the information leads to an arrest and indictment, the caller could be eligible for a cash reward of up to $1000.
LINK EVENT DEC. 17
LINK will be celebrating the annual Toy Distribution event on Saturday December 17. Herndon United Methodist Church (HUMC) will be receiving new unwrapped toy donations December 12 through 16 from 9 am until 3 pm and all day Saturday December 17.
TONIGHT: DELEGATE TOM RUST SENDS OUT S.O.S. FOR LINK
RUST says "LINK with an emergency request for food and toys to provide those less fortunate in our community. They need over 15,000 cans of food and over 4000 new toys by this Saturday to meet the demand. Some of the food that is in short supply includes cereal, canned fruit, canned tuna/chicken, condiments like ketchup, mustard, mayo, boxed meals, jelly, pasta sauce, canned pasta products, and baking products. They also welcome gift cards.

Donations can be dropped off at Trinity Presbyterian Church, 651 Dranesville Road, Herndon (on the corner of Dranesville Road and Park Avenue in Herndon) Friday between 9 a.m. - 7 p.m. or Saturday between 8 a.m. - 3 p.m. Thank you."

Board Allocates Trust Fund Monies to Good Shepherd Alliance
The Board of Supervisors, as part of the final business meeting of its term, voted to allocate up to $500,000 from the county's Housing Trust Fund to the Good Shepherd Alliance, as well as advancing proposals to change to the funding of affordable housing projects.
Please see Leesburg Today.

http://www.leesburg2day.com/news/article_91ebbc4c-25ad-11e1-bb5a-001871e3ce6c.html?success=1
Over 1,000 Delgaudio subscribers on Facebook.
Soon I will have to go to a fan page. Right now I am at 1,110 friends on Facebook. Thank you for friending me on the "social network".
Park View Jazz and Tuba Christmas
There is a concert fundraiser next Tuesday night December 20th at Mimi's near the Dulles Town Center.
The Tuba Christmas Group will perform at 5:00PM and 7:00PM and our Jazz Band will perform at 6:00PM and 8:00PM. If customers come in with the flyer they donate 15% of their check to the band program. Please write "Donate to Park View Jazz and Tuba" on your bill or a piece of paper. Write checks to "Park View HS Band".
1000 homes in Sterling have Christmas lights!

There is a record number of homes with festive holiday and Christmas lights in Sterling this year.
Some displays are really worth visiting. It likes every street is trying to be just like Juniper Avenue in Sterling. Thank you to all the families that have worked to show the spirit of the season.

Guest Appearance by Phil Rusciolelli
TELLS THE BOARD IN PERSON
"Some Signage is down right Discriminatory"
Two years ago The Board of Supervisors approved the placement of displays on the Loudoun County Court House Grounds. I respect a decision to allow citizens to petition and freely express their beliefs at the Court House particularly during periods that celebrate their beliefs. However, there appears to be an abuse of this policy in that some petitioners have through their displays and signs flagrantly discriminated against Christians and other Citizens of Faith. Would we allow signs that denigrate race, gender, or sexual preferences to be placed on our Court House lawn--.certainly not.
So why in the name of freedom of speech do we allow displays that mock a religious preference. This is not freedom of speech--.it is nothing less than discrimination, and I implore the Board to immediately adjust an approval policy that permits discriminatory displays that mock a religion, and only seek to denigrate another's belief. These types of displays should not be approved since they appear unlawful and prejudicial against a religious group, and I would contend a vast majority of Citizens of Faith in this county. Thank you ---Phil Rusciolelli
USE YOUR TELEPHONE (HA HA)
TO FIND OUT THE WEATHER!
This is why Comedy Central uses my materials for the past 20 years.
Robert sent this to me(!). Thank you Robert. " Verizon discontinued its dial-in time and weather services. However, Keith Allen, the meteorologist who ran the weather service, has found a new sponsor. You can access the service at 202-589-1212. I have an old telephone with speed-dial buttons." (I called it and it is quite refreshing)

DELGAUDIO IN ACTION
A random letter from a grateful constituent. THANK YOU FOR THANKING ME.
Thank you very much for your efforts on our behalf. Specifically, I would like to thank you for any encouragement you gave the right people to fix the road/curb at the end of (NAME OF) Court in Sterling which has been an icy hazard in the winter because it didn't drain correctly. They came this month and fixed it. My husband had written you back in the spring and right away someone came to assess the problem and then promised that probably in the summer it would get done, so now the job is completed, right before the cold weather is upon us. Thanks again.
$10,365 in bills have arrived from the successful last days of the campaign.
We have paid 2,000 dollars of that debt now with your help.
Please send $100, $50 or $25 now. You will appear on no list or disclosure. Please join them.
DONATIONS ABOVE $100:
YOUR NAME:
Your Employer:________________
Your Employment:____________
Your Employers Place of Business:____________
My mailing address for checks is Friends of Delgaudio P.O. Box 1222 Sterling, Va. 20167. My online donation link follows:
Donations to the Friends of Delgaudio can be made immediately online at this link (very much appreciated).
https://secure.donortownsquare.com/SSL/donate.aspx?sgst=0&amt=0&ai=425&qs=X4FNW