Latest News
HAPPY NEW YEAR. AS THE BALL DROPS, DELGAUDIO SALUTES OLD (2011) AND NEW (2012)SUPERVISORS
December 31, 2011

Final 8 hours of 2011
Dec. 31 2011
What a great year.
The old supervisors leave office at midnight tonight. Who were they? I salute them and bid them farewell and goodbye as we end the year.
Jim Burton, we had disagreements and when we agreed the earth shook and people fell out of their seats but it did happen a couple of times.
Sally Kurtz, had a party saluting her for her years Thursday night and was always direct. I sat with both Sally and Jim for the past four years and they helped me and Sterling.
Andrea McGimsey devoted herself to energy effeciency and bike and pedestrian paths among other concerns.
Kelly Burk recognized a community leader every meeting and was the most devoted to her job as supervisor of all supervisors.
Stevens Miller had energy and spoke very quickly at every meeting-- he might start out slow but quickly ramped up to hundreds of words a minute.
Susan Buckley was vice-chairman and balanced and fair most of the time.
All six liberals leave office tonight along with Lori Waters, a conservative Republican who leaves for Florida for a new opportunity with her family. Thats 7 experienced supervisors leaving tonight as their term ends.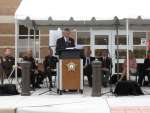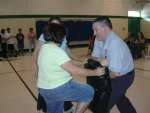 8 Photos of Events That Saved Sterling (Partial)
http://joineugene.com/photogallery/gallery.php?id=504
Delgaudio's Top 10 Charities
http://joineugene.com/news/article.php?article=6388

The year ahead, 2012
What Kind of Men and Women Take Office?

Tonight I return to office as your Sterling Supervisor. I never rest as you know. Joining me tonight at 12:01 AM is Chairman Scott York as a re-elected Republican and fellow Sterling District citizen on the Board. That's two Sterling veteran elected officials devoted to you.
Joining me and Chairman York: (drum roll please)
Suzanne Volpe who served as my appointee to the Aging Commission and the Library Trustees and also as former Senate Candidate Mick Staton's Planning Comissioner.
Geary Higgins who ran 2 times previously and served on the School Board for 4 years, known for his extremely balanced and honest opinions about life.
Shawn Williams who served our country, practices as an attorney and was drafted 14 months ago to run for office.
Matt Letourneau who works full time on economic policy for the U.S. Chamber of Commerce and has a vision for attracting business here to Loudoun
Janet Clarke is a young mother who has been a Purceville Councilmember and helped many young people as a Adult leader for the Scouts for years.
Ralph Buona is a top executive of a major corporation, former chairman of the Loudoun Chamber of Commerce and is focused on reducing unnecessary spending.
Ken Reid is a sacrificial conservative who served as a Leesburg Councilman for years and joined me in many political challenges over the past on short notice and with fearlessness.
On Tuesday we have our first meeting and Loudoun County will experience a great period of revitalization and a determined break with past liberal policies.
LAST 8 Hours of 2011
As we finish out 2011, we need to have a strong showing at the end of the reporting period - December 31st at midnight. Thank you for helping me raise 2,000 dollars 2 weeks ago.
Donations of $774 have come in as of right now.
Can you help us reach our goal of raising another $1,226 online before that deadline by clicking here?
Or please send me a check of $150, $100 or $50 to my mailing address for checks is Friends of Delgaudio P.O. Box 1222 Sterling, Va. 20167. My online donation link follows:
Donations to the Friends of Delgaudio can be made immediately online at this link (very much appreciated).
https://secure.donortownsquare.com/SSL/donate.aspx?sgst=0&amt=0&ai=425&qs=X4FNW
Thank you for making the effort.
Thanks to you, we end this year with Eugene Delgaudio as your Sterling Supervisor again and from this foundation Loudoun County is bringing in 8 more supervisors so that now we have an all Republican and all conservative board of supervisors.
Please help again with your donation.
So in your helping me, you were partly responsible for a 100 per cent Republican board of supervisors. On behalf of myself and all the people of Loudoun (and even all of the Republican Presidential candidates): Thank you.
Merry Christmas, Happy Hanukkah, Seasons Greeting,Happy New Year.
PREVIOUS NEWSLETTER posted here. The Delgaudio Santa Packet
http://joineugene.com/news/article.php?article=7358
Previous Newsletter: Suspicious (Bomb) Packet in Sterling
http://joineugene.com/news/article.php?article=7357
Previous Newsletter: Nike Flash Mob at Dulles
http://joineugene.com/news/article.php?article=7351